​Full Service Hair Salon in Tustin CA and Beauty Salon in Tustin CA
Are you looking for gorgeous, luxurious hair? Have you ever wished for long, fuller hair without the commitment of bonding, clipping or gluing? Then HaloCouture is the product for you!! Our 100% Remy Human Hair extensions add body, volume and length in a matter of seconds. You can wear them daily or just for special occasions and remove them as easily as applying them. This innovative idea has virtually no damage. There are four lengths- 12 inch, 16 inch, 20 inch and 24 inches. They are the basic equivalent to a full head of hair, adding about 70-130 grams of hair.

The process is so easy! All you do is place the Miracle Wire an inch or so behind the hair line. Pull the weft of hair down past the occipital bone or where the head naturally curves in. From there use a comb to pull your natural hair up and over the Halo – as well as few pieces forward to conceal the Miracle Wire. VIOLA! Angelic Hair in an instant!!
Call us at 714-760-4657 To Order
Or Visit us at Jack Martin Salon to try The Halo Couture and match your hair color
WHY HALOCOUTURE™?
Our Extensions have around 70-120 grams (depending on the length of hair) of the finest quality Remy hair to add luscious volume and length.. So with one halo, you get all the volume and length you need to add thick, rich body and style instantly, without damaging clips or glue.
100% REMY HUMAN HAIR
Remy Hair refers to human hair that retains the cuticle layer, the outer most part of the hair strand, flowing the way hair does naturally. The delicate process is the key advantage of Remy hair keeping it soft and silky, long-lasting and tangle-free.
QUICK & EASY
Quickly and easily transform your hair. Add or remove length and volume instantly. Whether you want to step up your glamour on those special nights out, or want to simply enjoy the added beauty to work. HALOCOUTURE Extensions are a quick and easy way to change your look instantly.
REASONABLY PRICED
HALOCOUTURE is thrilled to take advantage of the processes that make gorgeous Remy human hair very reasonably priced, and are pleased to pass that benefit right on to you! Enjoy the pleasure of transforming your hair with rich, silky, luxurious hair without breaking your budget.
How to apply your
HALOCOUTURE Extension
HALOCOUTURE Extensions Stay In
Double Click on each color to see it's name and number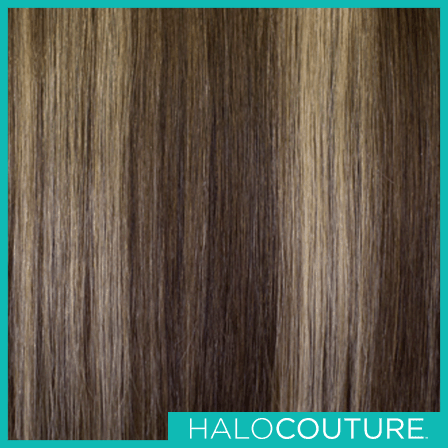 1/1